Careers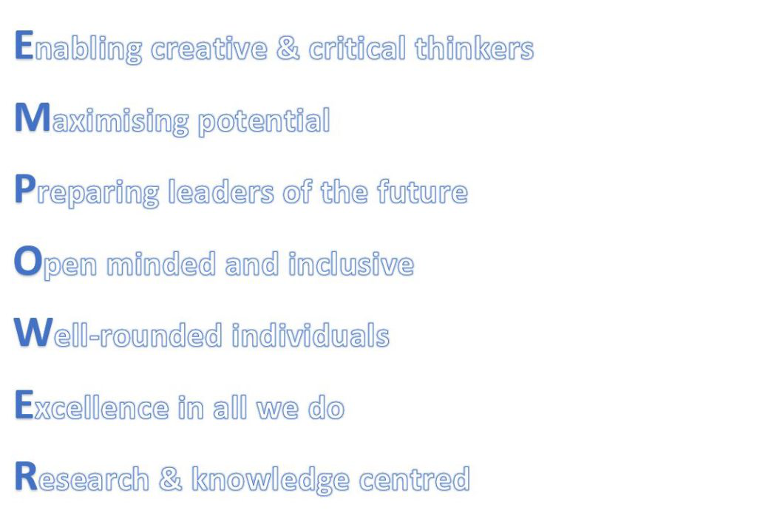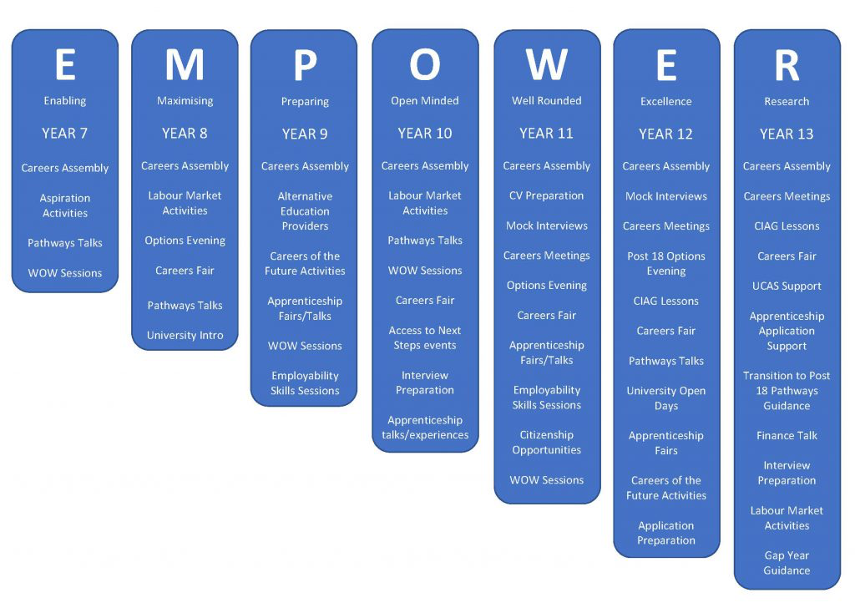 Careers Information Advice Guidance is a significant part of the school's provision, helping students make effective decisions and choices about their future career plans and next steps, especially at post-16 and post-18. CIAG is delivered to all students through a variety of methods. This includes Personal Development lessons for Years 7–11, and bespoke CIAG lessons for sixth form students. There are also opportunities for universities and approved training, apprenticeship and vocational education providers to speak to students through assemblies and other key CIAG events that are held throughout the school year.
Through our careers programme, linked strongly to The Gatsby Benchmarks, developed through the Gatsby Charitable Foundation, we aim to:
provide comprehensive information and advice
support aspirations and student progression
promote equality of opportunity and challenge stereotypes
respond to the needs of each learner
develop strong skills of reflection and action planning, enabling students to manage their next steps with impact
provide students with the knowledge and understanding required to make informed decisions and choices about their future
The delivery of the careers programme for students in Years 7-11 is done mainly through Personal Development lessons. Other vehicles are form tutor time, year group and KS assemblies, external visitors such as employers and guest speakers, curriculum, Careers Fair, employability interviews and advisory meetings.
For further information or to access a number of careers websites please click here.
To view our provider access policy please click here.
Final destinations for University places can be found here.
Key Stage 3
In KS3, the focus of CIAG is to help students:
understand themselves and what influences them
investigate what opportunities are available to them in learning and work
identify their interests
Please click here for further details about our careers programme and progression map for Key Stage 3.
Key Stage 4
In KS4, the programme becomes more specific as we support students through the transition to post 16 plans by:
raising students' self-awareness
identifying strengths and weaknesses
increasing awareness of occupational opportunities
developing planning skills
investigating 16+ study skills and promoting the notion of lifelong learning
Please click here for further details about our careers programme and progression map for Key Stage 4.
Key Stage 5
In KS5, students have a fortnightly CIAG lesson as part of Enrichment, and every alternate Monday afternoon to attend careers talks and explore the world of work.
Please click here for further details about our careers programme and progression maps for Key Stage 5.
The school will provide additional and appropriate targeted support for any student who is vulnerable, disadvantaged or has specific additional needs both for post 16 and post 18 transitions.
You can find Labour Market Information (LMI) here.
A variety of approaches is adopted to enable students to learn from the workplace and employers. For more information, please click here.
Mrs Sarah O'Rourke
Deputy Headteacher and Careers Leader