Old Blue Educates on the Dangers of Knife Crime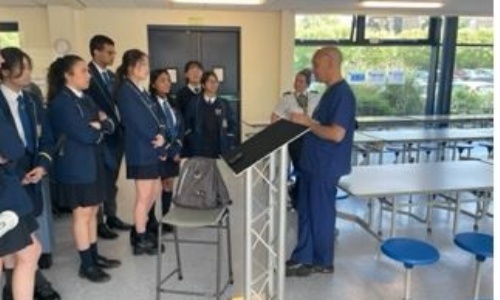 Last Tuesday our police liaison officer organised for an Old Blue to come into school and talk to our year 12 students about the dangers of Knife crime.
Rob Jackson has been a medic in Liverpool Royal Hospital and Salford for 23 years, he predominately deals with trauma patients in A&E. He was thrilled to come back to his old school and educate current students.
Rob tailored his talk to educate our students on the dangers of Kinfe Crime but also discussed how patients were treated and the lifelong medical impacts of such injuries, not just on the person but on the families of those involved.
This education talk was hard-hitting, and the students engaged fully with Rob, at the end of the talk a group of keen future medics were able to ask career-related questions that will help them with their future pathways
Year 12 students say "it was the best talk they had ever had", "it really opened our eyes to the dangers of knives", and "if they knew anyone who had a knife they would be reporting it, or telling them not to do this due to the dangers", "excellent careers advice"