Year 11 move onto the next stage of their journey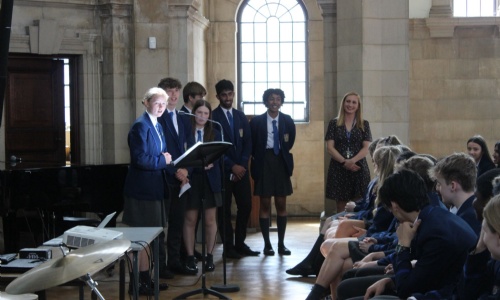 We bid a fond farewell to our Year 11 students this morning as they start their study leave, ahead of their GCSE exams.
Our congratulations go to all Year 11 students in successfully reaching this key stage in their education and having contributed so much to Blue Coat life. Staff agree that this cohort of students have been a credit to themselves and the School, as shown during our recent Year 11 Achievement Assemblies, where students were recognised for a wide range of curricular and extra-curricular accomplishments.
Mr Fee, Key Stage 4 Progress and Achievement Leader, made a very inspiring speech to Year 11 at a special event held in the Chapel.
He said: "Thank You all for being an amazing year group, for working as hard as you have through some of the most challenging times any year group has had. You have made my first year as Key Stage 4 Leader a pleasure.
"You are now all starting a fantastic journey, the journey of the rest of your lives. I am sure that each of you will have as unique a journey that fits your own unique personality.
"I remember from my past people who graduated at 21, but did not start their careers until they were 27. I know people who started university at 25, after working in other jobs until then, and got a job as soon as they graduated at 28.
"I know people who found love and got married at 19, and people who are happy being single at 38. I know people who are in a loving relationship, and have no children, and people who are single parents who love their children more than anything.
"I know people who have completely changed their careers at 30, going back to university to study a completely different area and are fully enjoying their new careers. I know people who earn more than £1 million a year, and people who are on minimum wage.
"You all have your own journeys, don't look on enviously at other people and where they are up to. Consider the things in your journey that you are happy with, and make you grateful.
"Everyone will have ups and downs in their lives and it is how we approach these parts of our journey that matter. We can help our friends on their journeys and we can be confident in asking the people around us for help.
"But if I can give you one piece of advice for the future it is to understand that you will be who you are. You will be who you are going to be, not what other people expect you to be. And that is great!
"I wish you all the best possible journeys in the future."
We would like to wish Year 11 the very best of luck and we look forward to seeing them on Results' Day in August.