The Rainbow Flag Award 2022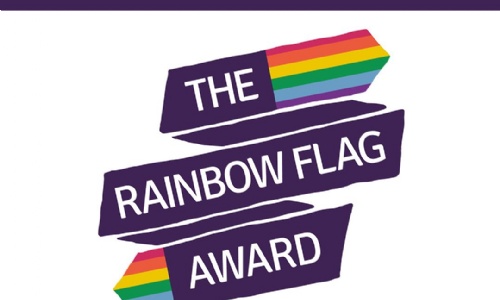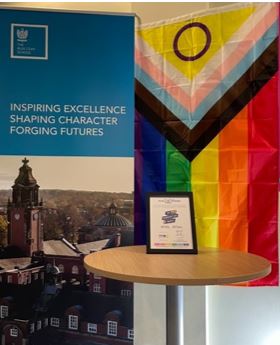 At the Blue Coat School, we value inclusion, diversity, tolerance, love, respect and equality always! As part of our commitment to ensuring everyone feels welcome in our school community, we are PROUD to announce that we have achieved the Rainbow Flag Award!
The Rainbow Flag Award is a national quality assurance framework for LGBT+ inclusion (see video) https://youtu.be/zYdlfJKYzlw. It has involved months of work by all our stakeholders to provide evidence that we strive to create an inclusive and supportive environment for our LGBT+ community.
We have been able to demonstrate our commitment to challenging LGBT+ phobia and promoting inclusion in 6 key areas of the school, which include skilled teachers, supportive trustees, and parents (thank you!), effective policies, an inclusive curriculum, pastoral support, and most importantly student voice.
Examples of what we have been PROUD! of developing within the School Community:
Pride Ambassadors
A group of students who are striving to support LGBT+ inclusive practices by producing presentations, and assemblies, supporting others, and promoting LGBT+ inclusion and visibility across the school!

Departmental Pledges
Departments across the School came together to pledge their support and area specific pledges to ensure LGBT+ inclusive practices.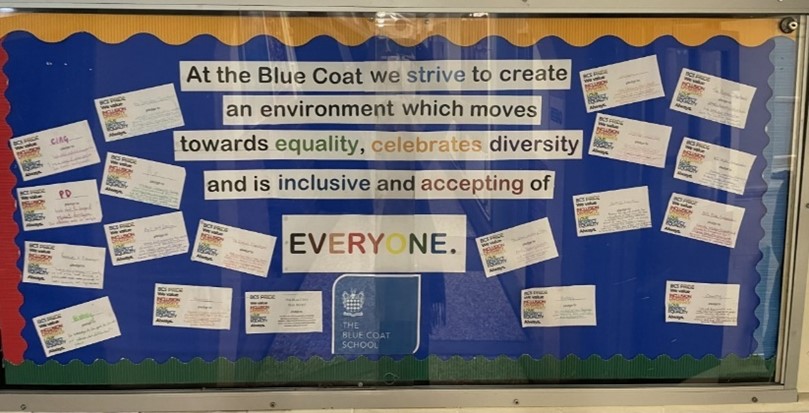 The PRIDE! Corridor

Pride Ambassadors have created informative presentations along a corridor that not only promotes LGBT+ inclusion, provides verified information, advice and guidance and demonstrates our zero tolerance towards discrimination of any kind!
What the Assessors have said about the evidence we provided:
| | |
| --- | --- |
| | 'Some really great points and very inclusive of LGBT+ identities, it is one of the better policies we've had submitted by any school regarding these characteristics.' |
| | 'Student testimonials are great to read and shows that there are staff at Blue Coat doing great things! Really considered responses from students reflecting on the school and LGBT+ inclusion.' |
| | 'Love to see that the Rainbow Flag Award has been put on the agenda and discussed at the Board of Trustees level. Great to see these colourful pledges from parents in their endeavour to strive for better equality and diversity at the school.' |
| | 'This is another good section from your school, and it is clear to see Blue Coat are proactive in ensuring school is an inclusive space for LGBT+ students and their families. We absolutely love the pride ambassadors' group, this is a great space for students to connect and feel supported.' |
| | 'The work your school are doing here is fantastic and will bring about meaningful change both for attitudes within our society, and also for the individuals in your classroom who are feeling seen. Your evidence clearly shows LGBT+ visibility across various curriculum areas, with comprehensive PSHE and PD lessons delivering very detailed informative schemes of work focusing on equality and diversity.' |
| | 'This is a great example of meaningful change, for example the display of LGBT+ scientists is a great example of embedding LGBT+ inclusion within the curriculum. If you can't see it, it's hard to be it!' |
But the work doesn't stop here! We are committed to ensuring that the hard work continues and our practices develop in line with national guidance on inclusion and visibility for our LGBT+ community. The statistics of young LGBT+ people experiencing poor mental health due to lack of acceptance, bullying and lack of representation are too high! To stay true to our core school values of Inspiring Excellence, Shaping Character and Forging Futures we have to commit to providing an inclusive and supportive environment for all!
If you would like any further information regarding the Rainbow Flag Award or further information as to how we support our LGBT+ community please get in touch – welfare@bluecoatschool.org.uk.
We will be hosting a 'Rainbow Flag Coffee Afternoon' in the new year offering a safe space for parents and carers to come and hear more about the award and support on offer to yourselves and young people!