Increase In The Very Top Grades At GCSE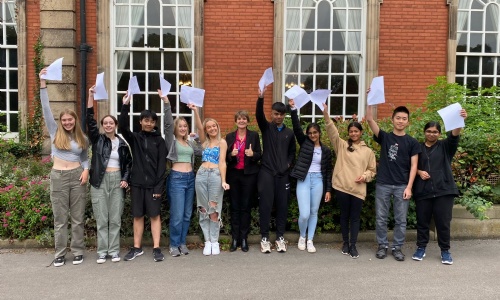 Students at The Blue Coat School have been applauded for their efforts and dedication after securing another impressive set of GCSE results today.
The number of Grade 9s achieved grew by a third to 35% compared to 2019 - the last set of results before the pandemic. In addition, 81% of all exams sat secured a grade of 7 or above.
Scilla Yates, Headteacher, said: "Building upon the incredible results that our students achieved at A-level last week, today's GCSE grades are equally impressive."
"Inspiring excellence is at the heart of all that we do at The Blue Coat School, and it fills me with so much pride to see our students excel academically.
"That is, however, just part of the story, and it is a great privilege to see our students grow and develop as individuals and become impressive and positive citizens. The class of 2022 are certainly a credit to our school community and beyond."
One group of 10 students were celebrating over 100 x Grade 9s, the very top grade, between them.
Charlotte Taylor achieved 10 9s and one 8 and said: "With Covid, the last few years have been scary at times.
"I actually did a lot better than I thought I would, and I would like to thank my teachers who have supported me through all of this."
Fred Lang secured ten 9s and hopes this is one of the first steps to helping him secure a place at Oxbridge. He said: "It has been hard work. In the run-up to the exams I spent all day revising – but it has paid off."
Keaziah Camillus secured an impressive eleven 9s. She simply said: "I rang my parents to tell them, and my Mum started crying. I am so proud."
Alfie Carter's intense revision regime he set for himself paid off tremendously as he too gained the full suite of 11 Grade 9s for his GCSEs. He and his parents were thoroughly delighted and shed tears of joy.
Stephanie Currie was not even at the school today and had to ring in from a holiday in Morocco to get her results. It was a phone call worth making as she also secured 11 GCSEs at grade 9.
Ms. Yates continued: "This year's impressive results are a testament to the hard work and dedication of our students and staff and I would like to congratulate them for all of their outstanding achievements.
"When you are celebrating results like this it is easy to forget the disruption these students have faced, but they have persevered and given their all. They are an incredible group of young people."